People like their history to be the way they think it was. They tend to get upset when a historian or a historical novelist makes a change that seems different than their perceived notion. It can be the things you think you know because they are widely accepted fact that can get you into difficulties.
Recently there was a social media kerfuffle about a Roman British cartoon by the BBC. One of the characters was an African military officer supposedly serving in the Britannia. In one picture, he was flanked by his wife. Apparently people on the both sides of the Atlantic (who thought they knew history) screamed – Impossible, political correctness gone mad. Everyone knows Roman Britain wasn't like that. There were no sub-Saharan Africans there and other such exclamations.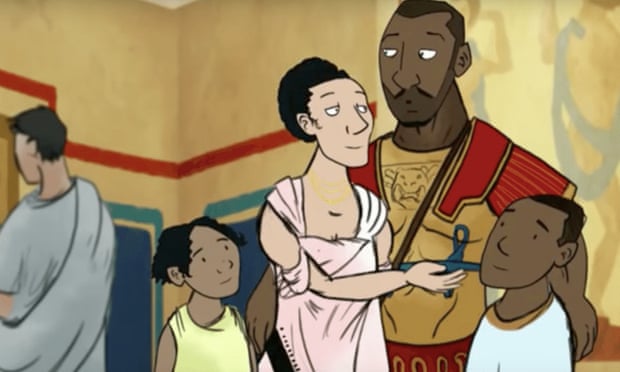 Photograph BBC
I rolled my eyes. I have spent many hours along the Roman Wall, researching the period and I am happy to report that yes, there were African officers on the Wall. Some of whom may have their families (officially or unofficially) with them. There is a story that the Roman emperor Septimus Severus (a man with North African roots, it was where the money was during the 2nd century AD) encountered an Ethiopian legionary officer when he arrived at the wall. There were others, including a troop of Nubian cavalry officers who probably were stationed at Chesters. (They may have been responsible for the re-dedication or rejuvenation symbol aka the phallus tile in the floor of the headquarters building which made my children giggle). The Roman Empire was ethnically diverse and they moved trouble-makers from one region to be soldiers in another, but Rome was not multi-cultural. When in Rome, do as the Romans do was an apt saying. It always surprises me when film-makers or other people depict Rome as one single national type. The Roman empire was huge and people did move about.
My problem with the cartoon was that having gone to the trouble to get the skin colour correct, was it too much trouble for the BBC to get woman's costume correct? Her hairstyle and dress were all wrong for that era. If you look at tombs of Romano-British women, particularly the famous Regina tomb, Romano British women tended to be all covered up in what has been termed a Gallic robe. Wearing something bare armed would have resulted in the woman being cold and several of tablets found at Vindolanda complain about the cold! The woman on the tombs had big hair. But that is an aside. The BBC was right to point out that Roman Britain like the rest of the Roman Empire had many hues of skin contained within it. This is far better than assuming African people only really reached Britain after the World War 2 which some people myopically seem to think.
One question is what happened to these African legionaries and possibly even merchants? The short answer is we do not know.The large scale excavation of Roman cemeteries really has not happened. They could have served their time and retired back to their homeland. They could have retired in Roman Britain or even beyond the wall (the wall was more like a porous border control) and married local girls or other Romano-British inhabitants. They might have left when the legions left and the entire economy collapsed. Why stay in such a lawless and cold place? They might have been killed during the plague of 541 when approximately half the population of Britain, Europe and the Byzantium empire died. And some might have stayed and intermarried. There could be people whose families have been in the North of England for nearly two thousand years who had an African legionary as an ancestor and that is kind of cool to think about.
In short, checking facts can lead to interesting discoveries. Given what passes for news these days, it can be helpful to go back to primary sources. It is always useful to remember that history by its nature is always written through a dark and shadowy mirror and sometimes those reflections are not entirely accurate.


IN OTHER NEWS:
My latest Viking set historical romance THE WARRIOR'S VIKING BRIDE will be published by Harlequin Historical in March 2018. It features a Viking Shield Maiden and a Celtic warlord who has been sent to return her to her long-estranged father.
Michelle Styles writes warm, witty and intimate historical romances set in a wide variety of time periods from ancient Rome to the Victorian. Her most recent SOLD TO THE VIKING WARRIOR was set on the Western Isles of Scotland in 875. You can read more about Michelle and her books at her website
www.michellestyles.co.uk.