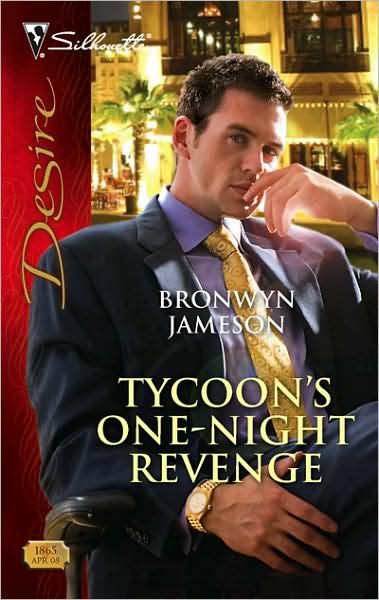 After reading Tycoon's One-Night Revenge, my April release from Silhouette Desire, a reader commented on the amnesia storyline. She asked if Donovan, the hero, actually suffered from amnesia since he was only missing a week's memories. In her mind, amnesia in a romance signifies a complete loss of memory. The character can't remember their name, their home, their job, their loved ones, their anything. My hero's partial loss was unexpected and it threw her.
Interesting. I hadn't considered this might be a potential problem when I decided to write this story. In fact, I thought it was a neat switch from the usual. Donovan would remember enough of his backstory to make things interesting...but he wouldn't remember the week when he met Susannah, they slept together, and a crucial business deal fell apart.
The inspiration to use this storyline came from real life. A friend's son was involved in a relatively minor accident, suffered a concussion, and couldn't remember anything he'd done that day. His memory of that block of time never returned, the doctor said because of the (relatively minor) brain injury suffered in the accident. That got me thinking. What if he'd been driving to or from something significant when this happened? His wedding. A date with his divorce lawyer. Home from his new lover's bed.
And could I use artistic licence to stretch this memory loss beyond a few hours to, say, a few days?
I really liked the idea but it took a number of years to employ it in a book. I have this mental block, you see, about amnesia storylines. I worry about details such as: if he's forgotten everything, then surely he can't remember how to read and write and balance his checkbook and order a meal and drive his car and run his business. If he's suffered a serious head injury, then what about brain damage and changed personality and ongoing medical issues? Not that I don't enjoy reading a cracking good amnesia story; just the plotting of writing of one creates these questions in my pragmatic, over-analytical mind.
BUT the missing memory scenario really suited this storyline, which also involves a bride who runs away on her wedding day leaving a string of unanswered questions. Why does she run? Is there a man involved? And if so, who is he and what power does he hold over her? The mystery man who doesn't remember his one night in her bed fit perfectly, as did using a partial memory loss rather than complete amnesia.
Let's talk about amnesia storylines--do you like them, hate them, don't care either way?--and your expectation as a reader. When you see the word "amnesia" in a blurb, do you expect the full forget-my-name blankness? And lastly, do you have a favourite book with an amnesia hook?