2020 heralds the start of a Harlequin Historical series – The Sons of Sigurd. This is the first time there has been a Viking continuity. Five authors – Michelle Willingham, Harper St George, Jenni Fletcher, Terri Brisbin and yours truly have penned exciting stories revolving around five brothers and their quest to avenge their father's murder. The first one Stolen by the Viking debuts in March (this means it goes on sale at Harlequin.com on 1 February. Harper St George's Falling for Her Viking Captive comes next and then mine Conveniently Wed to the Viking in July.
The series came about as a result of Jenni Fletcher visiting me when her family were on holiday in Northumberland in 2017. Over tea, cakes and much gossip, she mused that it would be great fun to do a Viking continuity. I promised to see what I could do. I am not sure she expected me to do anything.
When the annual AMBA lunch and toast to the authors rolled around, with knocking knees and a faint tremor in my voice I spoke first to my editor and then to the Historical team. Luckily they were all enthusiastic. In fact we were pushing on an open door. After getting the editors' backing, Jenni and I were able to get the others involved. Then the hard work began — creating a series which could be sustained over five books and also showcased the individual authors' talents.
Working in collaboration was something new for me. There is always give and take and the insight into other people's working habits has been interesting. It is the first time I have dealt with dropbox, or a spreadsheet, for example. And the sheer pleasure of being able to spark ideas off each other was just wonderful. One of the bonuses has been being able to read each other's work at an early stage and see the ideas start coming to life.
We are very proud of the series. The books can be read individually or as an overarching story. Personally we think, once you have read one, you will want to read them all.
To give you a flavor what is in store: this is the blurb for Michelle Willingham's Stolen by the Viking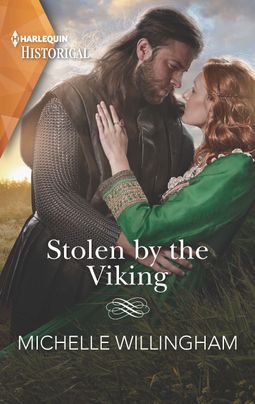 Bought for his vengeance
But claimed for his bed!
Battle-scarred Viking Alarr is a broken warrior who expects to die carrying out his oath of blood vengeance. He saves maiden Breanne î Callahan from slavery only with the intention of getting close enough to kill her foster father. Until their spark of passion ignites a desire to keep her close…and presents Alarr with a gut-wrenching choice—his revenge or his heart?
You can read the start of the story on overdrive.com for free. And then hopefully you can see why we are all so excited by the prospect.
Michelle Styles writes warm, witty and intimate historical romance in a wide range of time periods for Harlequin Historical. Her most recent book A Deal with Her Rebel Viking was published in December 2019. Her next book Conveniently Wed to the Viking will be published in July 2020. You can learn more about Michelle and her books at www.michellestyles.co.uk