When I lived in Calgary, a lot of people would complain about the winter. Sure, we usually had a couple of desperately arctic cold snaps where it would dip somewhere around the -40 C mark. Brrrr. And if you drove a little over an hour, you'd be in the mountains and there was lots of the white stuff. But Calgary itself - well, a heavy snowfall warning or winter storm advisory is anything around 10 cm which makes me laugh. We really didn't get a lot of snow. Lots of blow, but not huge accumulations. And the snow we got rarely stayed. A warm chinook wind would come over the Rockies and drip drip - it would all be gone. This is a pic of me last year, feeding birds in Carburn Park in December.
After 12 years, I'd kind of forgotten about winters in the Maritimes - until recently.
We had 2 November storms, one that put the power out for 12 hours and the second - only three days later - that dumped 3o cm of snow on us and that had a 12 hour wait for the snowplow to clear our street. And this is just the beginning. My kids were thrilled. And it brought back all the things I remember about growing up on the East Coast and the multi-functionality of snow.
There's the obvious - snowman building, snow forts and snowball fights. In Alberta, with the exception of a late spring storm, the snow isn't that WET. So it doesn't stick together. Here, though, it tends to be heavier and you can roll to your hearts content.
It's a bit of a drive, but there's downhill skiing - not quite the same as Lake Louise or Sunshine Village in Banff, but there are several smaller ski hills that are lots of fun.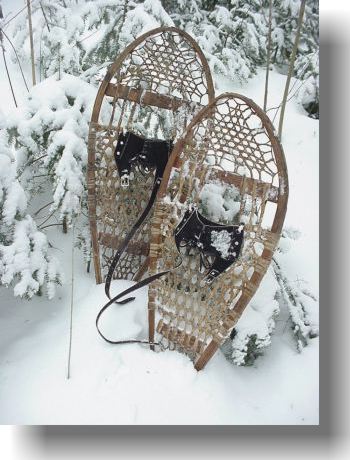 There's cross country skiing - boy, did I do this a lot as a kid - and one of the things I love about where we're living now is that we are close to the power lines, where there are always snowmobile trails to ski on. I might have to invest in a new pair and get in shape! It's brilliant exercise.
And of course, if you're not into cross country, there's snowshoeing. Actually, a bit more practical as there is no need for special boots, and they work better than skis when there is no path and the snow is deeper (which is why they were invented in the first place).

Then, there's indoor fun with snow. Two things in particular - maple candy and ice cream. We didn't make it often, but there were times after a fresh snowfall that my mum would heat up maple syrup and pour it over a pan of snow to make taffy. Mmmmm. And one of my favourite memories of winter growing up was homemade ice cream. We'd have a few neighbours in, go out to Currie's farm
and get fresh cream, Dad would get coarse salt...Mum would mix up the cream bit and Dad would pack the ice cream maker with snow, and then it would crank away. We always made a tub of vanilla and one other kind. And mum always took strawberries she'd frozen out of the freezer and mashed them and mixed them with sugar to put on top. We'd have a grand old time while it all set in the freezer, then take it out and have a wonderful treat.
All in all, despite the shoveling and the sometimes inconvenience, there's a lot to be said for snow.
What are your favourite things about the white stuff?